North Quincy

High School




Class Of 1963
Welcome to the North Quincy High Class Of 1963 web site.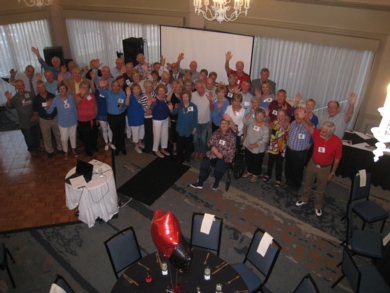 55TH DESTINATION REUNION EVENT
SOME FEEDBACK...
As we all still revel in the fun we had during our latest Reunion, I thought I'd share some general "consensus" opinions about the event!!
All agree the weather (can anyone take credit for that??) was ideal. Folks loved the fact that we were able to mingle and chat over the course of our time together, whether that be during the whole weekend at the various activities or simply Saturday evening. Those attending generally loved the Plymouth location, the Hotel 1620, the band (that even attracted folks from the wedding crowd in the ballroom), the "unexpected dance contest" hit (as someone put it), and the fun frame pictures.
Although again, general "consensus" is that no one is yet ready to talk about yet another event (like a 75th Birthday Bash???), Gerry Gaughn's idea of returning to Quincy for a future venue, was well received by others seeing his feedback. Lunches were suggested, while others felt that weekend events are more attractive to those "from away".
Our thanks to all for their attendance and contributions...we are SOSOSO fortunate to have the classmates we do!!!!!!! Cyberhugs to all...