North Quincy

High School




Class Of 1963
In order to "share the load" for creating a Homepage, and keep our website active, we have decided to have people volunteer to do a piece each month. Bill Troupe volunteered to do December (thanks, Bill), We wish him, and all of you, well during this holiday season!!!! He looks GREAT for all he's been through!!!!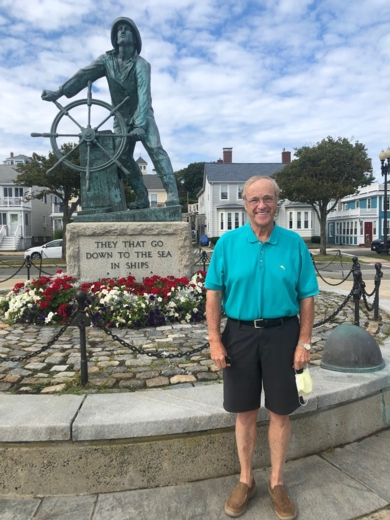 Hello everybody, as some may recall I came down with pancreatitis in the spring of 2018. It was caused by my gallbladder. Because I had a cyst on the pancreas they couldn't do the gallbladder surgery for six months.
Following the surgery, which actually took place the day of our last reunion in Plymouth, I had another uneventful recovery. The good news was I lost 30 pounds and I was required to have a follow up MRI every summer there after. Everything was fine until the one done in 2021. That one showed a new mass next to my pancreas. Of course our first thought was pancreatic cancer. Several biopsies fortunately confirmed it was not pancreatic cancer but a much more treatable large Cell lymphoma.
My doctors at the Dana-Farber Cancer Center in Boston, who do almost nothing but lymphoma cases, told me that mine was a stage one case. They said they almost never see lymphoma at stage one because it doesn't cause symptoms at that early point. They went on to add that it was really a blessing that I had the pancreatitis three years ago that led to my yearly MRI checks. But for that it could've gone on to stage three or four eventually, making it much more difficult to treat.
In any event, I started chemo in September and finished it three weeks ago. Because it was at stage one I only needed four bouts of chemo rather than the usual six. Fortunately I had very little nausea or other side effects. I continue to go into the office every day ( I really don't do much law stuff anymore) and played golf twice a week throughout the treatment.
When I got the summary for treatments from medicare I was incredibly thankful for a good insurance because just one of the chemicals they use lists at $30,000 per dose!!!!!!!!!! Yikes.
Because of all this we didn't go to Florida this fall as we had been doing and have booked a flight to Naples on January 9.
We were somewhat of an insular group for Thanksgiving as both of our kids are still leading a busy social life even though they are fully vaccinated. Linda and I just felt more comfortable being in a small group due to my compromised immune system.
I hope you are all doing well and we look forward to future get-togethers (is that a word?) really soon. Bill
Welcome to the North Quincy High Class Of 1963 web site.