North Quincy

High School




Class Of 1963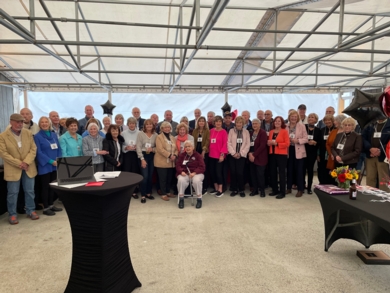 THANKS TO ALL WHO CONTRIBUTED TO MAKING OUR 60TH REUNION EVENT A SUCCESS, WHETHER YOU BOOKED THE VENUE, SELECTED/ORDERED THE FOOD (LOVED THOSE BACON COVERED SCALLOPS), PREPARED THE MEMORIAL (100 OF OUR CLASSMATES PARTIED WITH US IN THE AFTERLIFE), PARTICIPATED ON THE COMMITTEE VOLUNTEERING TO BE "MC", WELCOME PEOPLE ON ARRIVAL, GET THE CAKE (BEST EVAH!!), BALLOONS, NAMETAGS, COSTUMES/FRAME (WHICH WE FORGOT TO USE...DAH), SET UP ZOOM, PREPARED TRIVIA CONTEST (6 BIG WINNERS!), CONTACTED CLASSMATES, UPDATED DATABASES, COLLECTED MONEY/PAID BILLS, KEPT TRACK OF WHO WAS COMING, OR TOOK/POSTED PICTURES THAT WILL BE POSTED ON THIS WEBSITE. BUT ESPECIALLY, THANKS TO THOSE OF YOU WHO MADE THE JOURNEY IN A RAINSTORM (WHO KNEW?) TO OUR "OUTDOORS" EVENT, FROM AS FAR AWAY AS TENNESSEE, MAINE, FLORIDA AND CANADA!!!!
GIVEN THE RECEPTION, IT MAY BE POSSIBLE TO THINK AHEAD TO OUR "80TH BIRTHDAY BASH" (MAYBE A WARMER VENUE, WITH EASY-ACCESS RESTROOMS). 80 IS KIND OF A BIG DEAL, ISN'T IT? ANYWAY, REMAINS TO BE SEEN. AFTERALL, WHO EVER THOUGHT WE WOULD LIVE THIS LONG STILL MOVING AND HAVING FUN? GOTTA LOVE IT!!!
AS ALWAYS, STAY TUNED!!
Welcome to the North Quincy High Class Of 1963 web site.